Lviv experess
TOUR PROGRAM
Bus excursion "Lviv for 180 minutes". During this unforgettable trip you will see ancient churches and cathedrals, majestic parks and high hills, pompous Baroque buildings and Carpathian mansions. The most striking objects you will see are the Olga and Yelizaveta Cathedral, the Cathedral of St . Yura, House of Scientists, Lviv Polytechnic, University of them. I. Frank, High Castle, open-air folk architecture museum Shevchenkivsky grove, where you will find various master classes and tastings.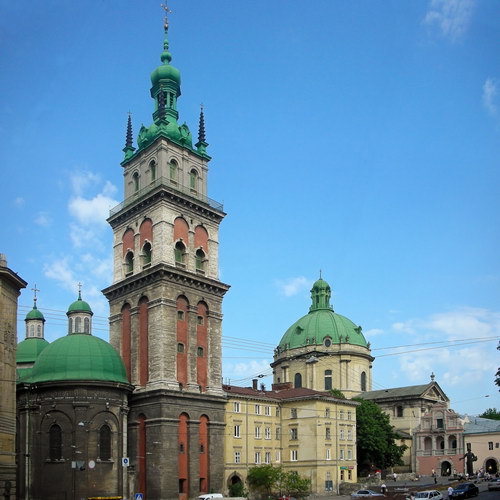 14:00 Optional lunch (from 300 UAH)
Tasting and sightseeing excursion "All Lviv and coffee". Who knows where all the roads of the world lead, but it is known that all the roads of Lviv lead to the Market!This is the center, this is the color of Lviv! The Latin Cathedral - the only cathedral in Lviv built for over 100 years, the Chapel of the Boim and the Campanians, the Assumption Church ensemble is a remarkable example of Renaissance architecture, the Chapel of the Three Saints with the magic lantern of the dome, the beautiful building of the Historical Museum with a unique Italian courtyard inside. And then ... A pleasant buzz and laugh, street music, illuminated facades of the Middle Ages, a mix of delicious aromas, fairs, concerts, festivals, fountains with nutritious water and the famous cobblestone - invariable attributes that will never disappear, probably never! This is a vivid journey, during which you will gently plunge into the atmosphere of this city, along with the historical buildings and facts about them, entering the most interesting kneipps and cafes, tasting coffee, liqueurs and desserts.
OPTIONAL Excursion to the Lviv National Opera. One of the most beautiful theaters, in which, like in any theater, tragic stories, the history of ups and downs, the history of talents and geniuses are hidden. (duration 45 minutes, cost 150 UAH), after the tour, a visit to the play is possible (according to the schedule of the theater), the cost of tickets is 100-600 UAH.
Cost of the program for group 7 person 2915 UAH / person
Cost of the program for group 17 person 1415 UAH / person
(net worth)
The price includes:
Excursions on the program
Accompaniment of foreign language guide during the program
Tasting in the program of the first day
Transfer on the program
The tour price does not include:
Inbound tickets to excursions
Food
Optional programs
Personal expenses
Travel by public transport
Viber WhatsApp Telegram: +38 (067) 653 82 25
e-mail: office2@cruiseplanet.com.ua
skype: cruiseplanet